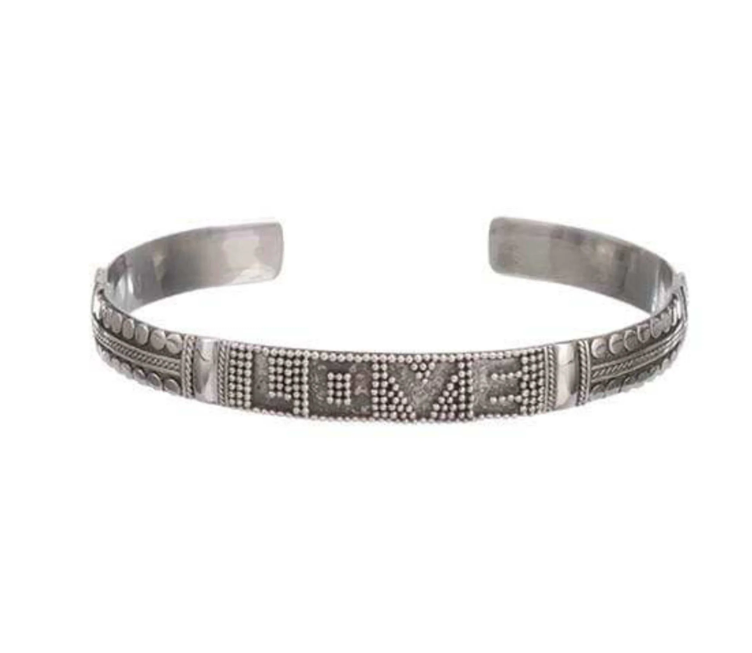 Introducing our Alchemy Love Bracelet in partnership with Love Is Project.
The circular dots traditionally symbolize rice in Balinese culture.  Rice and LOVE are both plentiful and provide sustenance to the communities who make these bracelets.
In Hinduism, Gold is symbolic of knowledge, learning, meditation and mental development. The legend of alchemists turning common metals into gold is a parable for the human quest to change base vulgarities like greed, hate and selfishness into qualities like love, virtue and compassion through the process of self-purification. It takes our artisans 6 hours to craft each bracelet.
Gold plated on silver.  Delicate, handle with care.
Handmade with LOVE in Indonesia.
Adjustable cuff
Every bracelet is unique & hand-made therefore a slight variation may occur
Sterling silver with gold plated weighing 0.5 oz. or Sterling Silver
As seen on 

The View
Handmade in Marin, California. Made with love to spread love. We use the highest quality 14k gold fill and sterling silver for jewelry that lasts.
Materials
Our jewelry is custom designed and handcrafted in Northern California using high-quality 14k gold-fill or 925 sterling silver.
14 Gold Filled
Our gold-filled pieces have a thick layer of solid 14k gold, heat and pressure bonded to a high-quality brass core. They contain much more real gold than gold-plated and because that layer is so much thicker, it means Gold-Filled jewelry lasts longer and stands up to wear and tear better than gold plated.
Sterling Silver
Sterling Silvers is a solid, precious metal that lasts forever. Silver can darken with time but can be easily polished back to its original beauty. Oils from your skin help prevent silver from tarnishing, so wear your silver often to help keep its shine.
Jewelry Care
Caring for Your Jewelry
The best way to care for your pieces is to keep them clean, dry, and safely stored. You can clean your jewelry gently with water and mild soap, and then dry thoroughly with a soft cloth.

Yes, you can shower with your 14k gold-filled and sterling silver jewelry, but make sure your soaps and shampoo are gentle as certain chemicals can negatively impact the look of the metal.
Returns
Easy Returns
We want you to be delighted with your jewelry. We offer free returns for unworn jewelry within 30 days for US orders. Refunds issued upon return receipt.