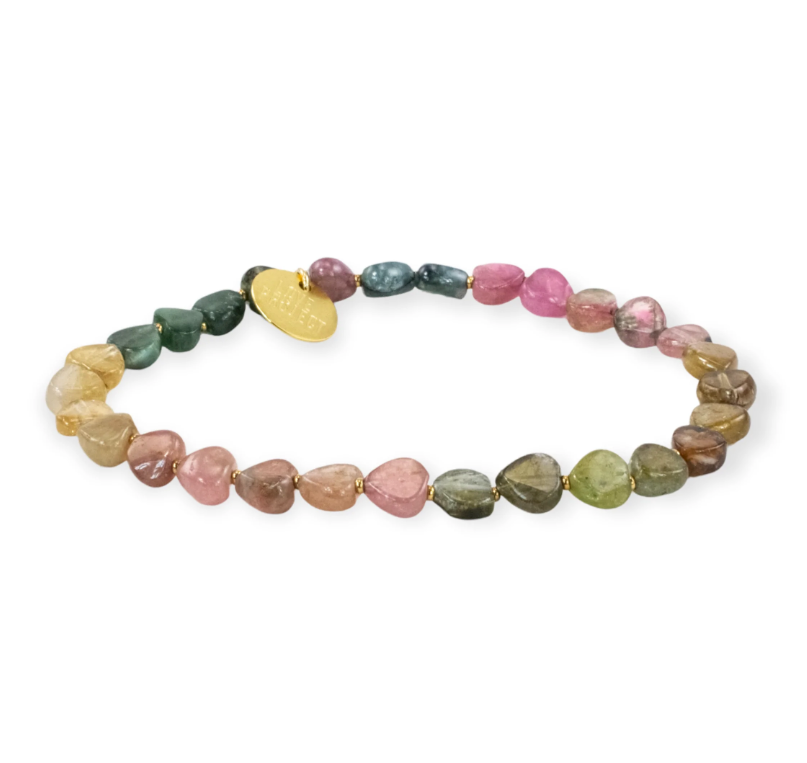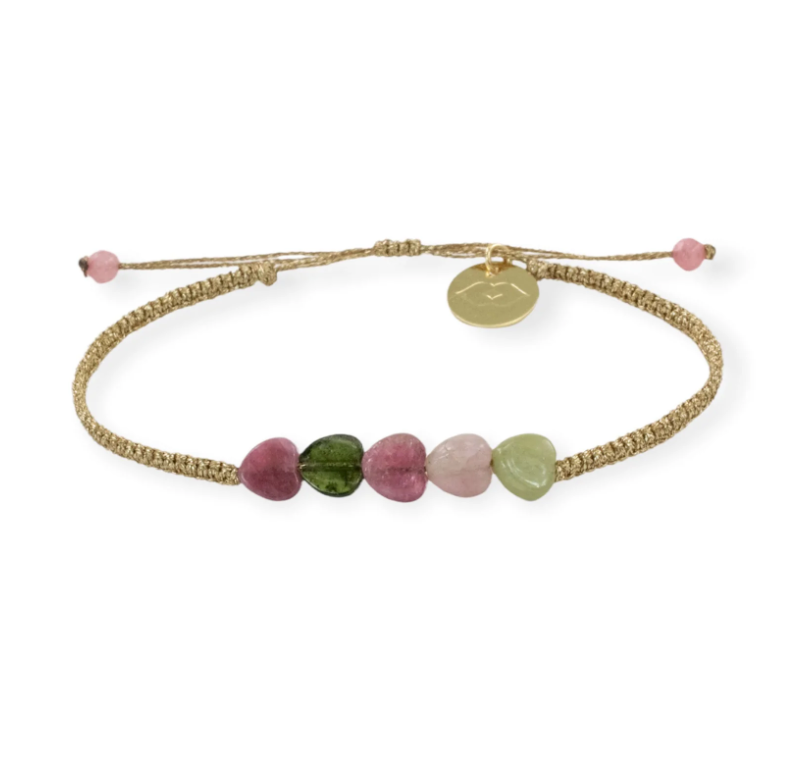 Enlighten Tourmaline Bracelet
Introducing our new Enlighten bracelets in partnership with Love Is Project. Existing in a rainbow of colors, Tourmaline is a coveted stone.
*Five stone bracelet pre-order - Ships by Dec 1st
In fact, Red Tourmaline looks so much like ruby that some of the stones in Russian crowns are actually Tourmaline. Tourmaline helps forge new relationships and gives you a positive look on life.  The colorful spectrum of Tourmaline in this bracelet will give you the full range of benefits that these stones provide.
Handmade with LOVE by talented artisans in Bali, Indonesia, so you may observe slight variations in color
Five multicolored Tourmaline heart-shaped beads or fully beaded
Easy slide closure expands up to 10" or fully beaded stretch bracelet.
Handmade in Marin, California. Made with love to spread love. We use the highest quality 14k gold fill and sterling silver for jewelry that lasts.
Enlighten Tourmaline Bracelet
Materials
Our jewelry is custom designed and handcrafted in Northern California using high-quality 14k gold-fill or 925 sterling silver.
14 Gold Filled
Our gold-filled pieces have a thick layer of solid 14k gold, heat and pressure bonded to a high-quality brass core. They contain much more real gold than gold-plated and because that layer is so much thicker, it means Gold-Filled jewelry lasts longer and stands up to wear and tear better than gold plated.
Sterling Silver
Sterling Silvers is a solid, precious metal that lasts forever. Silver can darken with time but can be easily polished back to its original beauty. Oils from your skin help prevent silver from tarnishing, so wear your silver often to help keep its shine.
Jewelry Care
Caring for Your Jewelry
The best way to care for your pieces is to keep them clean, dry, and safely stored. You can clean your jewelry gently with water and mild soap, and then dry thoroughly with a soft cloth.

Yes, you can shower with your 14k gold-filled and sterling silver jewelry, but make sure your soaps and shampoo are gentle as certain chemicals can negatively impact the look of the metal.
Returns
Easy Returns
We want you to be delighted with your jewelry. We offer free returns for unworn jewelry within 30 days for US orders. Refunds issued upon return receipt.